Get to know Toledo
A City Alive with Activity
In addition to being an exciting place to live and raise a family, Toledo also provides excellent opportunities for cultural enrichment.
The Toledo Museum of Art
The Toledo Museum of Art is ranked among the best museums in the United States. More than 30,000 works of art are available ranging from American and European painting, the history of art in glass, ancient Greek, Roman, and Egyptian works, Asian and African art, medieval art, sculpture, decorative arts, graphic arts, modern and contemporary art.
Founded in 1901, the Toledo Museum of Art is globally recognized for its collection, educational programs and architecturally significant building.
The Toledo Symphony
The Toledo Symphony was originally formed in 1943 and started with 22 part-time musicians. Today, over 80 musicians are primarily employed by the Toledo Symphony.
The Toledo Zoo
The Toledo Zoo is home to thousands of animals and known as one of the top attractions in northwest Ohio for more than 100 years. The Zoo, located in south Toledo, occupies 62 acres and features  reknowned exhibits and several WPA-era architectural style buildings.
Sports & Recreation
Throughout the year, Toledo is a great place to play. Baseball fans can catch a Toledo Mud Hens Triple A game or see the Major Leaguers at the new Comerica Park in Detroit. Hockey fans can join the cheering for the Toledo Walleye, Toledo's very own ECHL team. College football and basketball fans can watch big time games right in Toledo – or in nearby Ann Arbor, where the University of Michigan draws more than 100,000 fans each home game.
Northwest Ohio boasts some of the best golf courses in the country. Toledo's Inverness Club has been host to the PGA Championship, U.S. Opens and the U.S. Amateur Championship. Toledo hosts the Jamie Farr Toledo Classic and the annual Amateur Baseball Federation National Collegiate Summer World Series Tournament.
Dining
Toledo, Ohio has over 700 restaurants serving various dishes, including diverse ethnic cuisine ranging from Lebanese to Mexican, Greek to Chinese, and Italian to Polish.
Nightlife
The Hollywood Casino boasts 125,000 square feet of thrilling casino action. In addition to 2000 slot machines and 60 table games, Hollywood Casino offers great entertainment and fantastic restaurants.
Toledo also has a large variety of nightclubs and bars. Whether you are in the mood for dancing at some premier clubs downtown, or just want to watch the game with some buddies at the local sports bar, Toledo's nightlife venues offer something for everybody.
Event Centers
The SeaGate Convention Centre, located downtown in the heart of Toledo, hosts events for both business and entertainment venues. Be it for conventions or exhibits, the spacious building boasts 375,000 square feet of building space, including 75,000 square feet of column-free exhibit space.
The Huntington Center, also located in downtown, makes sure Toledoans are never short of entertainment. Recently completed in 2009, it hosts sports games, concerts and other forms of entertainment that will satisfy the tastes of every family member.
Outdoors
Just minutes from the shores of Lake Erie and less than an hour from beautiful lakes and scenic waterways, Toledo is a boater's and fisherman's paradise. Lake Erie is considered one of the top fisheries in North America and is famous for walleye fishing. Lake Erie, the Maumee River and the surrounding waterways and lakes are home to a wide variety of game fish.
Surrounding Toledo are eleven main metroparks and preserves. The Metroparks of the Toledo Area occupies 10,500 acres of beautiful scenery, rare and endangered plants and animals, trails, significant historical sites, shelters and indoor facilities, playgrounds and open spaces.
What's nearby?
If one would like to venture outside of Toledo, there are many close-by attractions that can be reached within an hour's drive. Cedar Point in Sandusky, Ohio is only 45 minutes east of Toledo and is considered the greatest amusement park in the country. Home to the University of Michigan, Ann Arbor, Michigan is 40 minutes north of Toledo and draws in more than 100,000 fans for their home football games. Cleveland, Ohio is only 90 minutes east and is home to the Rock and Roll Hall of Fame. Automobile aficionados can venture north to Detroit, Michigan and see where the industry began.
There are four major cities within four hours of driving including Cincinatti, Ohio, Columbus, Ohio, Chicago, Illinois and Indianapolis, Indiana. Toledo Ohio is a perfectly centralized location where one can start a day trip or even a quick weekend getaway to some of the best cities in the midwest.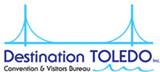 Photos courtesy of Toledo CVB.