Curriculum
Curriculum/Rotations
The Fellowship in Cardiovascular Disease is a 36-month/3-year program, featuring the following rotations (below).  The organization of the training program is flexible and may be tailored to a fellow's goals and interests for the future in case he or she would pursue advanced interventional, electrophysiology, or heart failure/transplant fellowship.  However, all fellows complete twenty-four months of required clinical training.  The intent of this program is to individualize training within the framework of ABIM, COCATS, and ACGME guidelines to optimize each fellow's ability to achieve excellence in cardiology.
COCATS 4

COCATS 4 (Core Cardiology Training) is the curriculum guiding document for fellowships in cardiovascular disease.  This document consists of the reports of individual task forces which reviewed and made recommendations for training in each of thirteen vital areas of cardiovascular disease.
Sample Block Schedule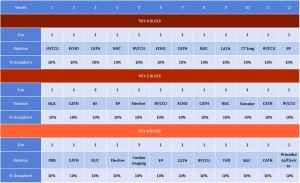 Click on photo to see sample block schedule.
| | | |
| --- | --- | --- |
| ECHO – Echocardiography | EP – Electrophysiology | NUC – Nuclear Cardiology |
| CATH – Cardiac Catheterization | CT SURG – Cardiothoracic Surgery | CHD – Congenital Heart Disease |
| CHF – Chronic Heart Failure/Transplant/Rehab | IP/CCU – Inpatient/Critical Care Unit Consult | VASC – Vascular Medicine/Peripheral Vascular Disease |
Site key
Mercy St. Vincent Medical Center, Toledo, OH
Henry Ford Hospital, Detroit, MI
Sentara Heart Hospital, Norfolk, VA
% Outpatient: One half day (4 hours) per five day work week
Didactic Activity
Supplemental to the clinical curriculum, this program has an ambitious schedule of didactic activities, including, but not limited to, lectures, case presentations, subspecialty conferences, in-service demonstrations, journal clubs, and Morbidity and Mortality conferences.
Didactic Activity Schedule (always subject to change)