Research & Scholarly Activity
RECENT PUBLICATIONS 2013-2017
Edgerton MT, Kollmorgen RC.  A Novel All-Inside Arthroscopic Technique for Radial-Sided Triangular Fibrocartilage Complex Tears: A Case Report and Review of Literature.
Hand (N Y). 2017 Sep;12(5):NP166-NP169. doi: 10.1177/1558944717715138. Epub 2017 Jun 23.PMID:28643521
Anthony S, Munk R, Skakun W, Masini M. Multiple Epiphyseal Dysplasia.J Am Acad Orthop Surg. 2015 Mar;23(3):164-172. Epub 2015 Feb 9. Review.
Kenny RM, Beiser CW, Patel A. Supraspinatus and infraspinatus compartment syndrome following scapular fracture. Int J Shoulder Surg. 2013 Jan;7(1):28-31. doi: 10.4103/0973-6042.109891.
Werner SD, Satterly T, Skakun W., Jacofsky DJ. Book Chapter: Transfemoral approach to revision total hip arthroplasty in The Adult Hip, 3rd Ed. October 16, 2015 Publication Date. Lippincott, Williams, Wilkins. Editor Callaghan J. ISBN/ISSN:9781451183696
PRESENTATIONS   2014-2017
Nathan Fisher, DO, Andrew Blankenship, DO, Richard Miller, DO.:  Septic Arthritis of the Knee Caused by Candida Parapsilosis.  Mercy Health – 17th Annual Regional Research Symposium.

Michael Edgerton DO, Alexander Bollinger MD, Harry Hoyen MD, Blain T. Bafus MD: Early experience with the Synthes Radial Head  Prosthesis at a single institution.
Metrohealth Research Symposium, Cleveland OH – October 24, 2017

Naylor B. Bilateral patellar fracture secondary to primary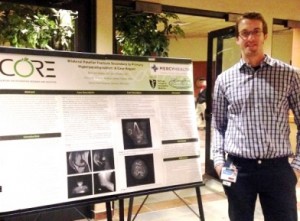 hyperparathyroidism: A case report. 2nd Annual 2014 Northwest Ohio Osteopathic Association Poster Competition and Exhibition, Sandusky OH, November 15, 2014.
2nd place award Case Report category.
McSpadden J, Jaeblon F: Metatarsal Head Autograft for Treatment of Metacarpal Head Avascular Necrosis. AOAO 2015.
RESEARCH   2014-2016
Phillips S. Jaeblon T, Stausmire JM. Does the OTA 31 A1.1 fracture exist in the young adult: A surrogate marker for co-morbid conditions.