Curriculum/Rotations
PGY2 Rotations

3  Neuro ICU
3  General Neurology/Inpatient Consult
3  Stroke Service/ED
2  Night Float
1  Subspecialty Clinic

PGY3 Rotations

3  Pediatric Neurology
1  Psychiatry
2  Night Float
1   Neuroradiology
1  EMG
3  Elective
1  Subspecialty Clinic

PGY4 Rotations

3  Neuro ICU
3  General Neurology/Inpatient Consult
3  Stroke Service/ED
1  EEG/EMU
1  Elective
1  Subspecialty Clinic
Electives
Sleep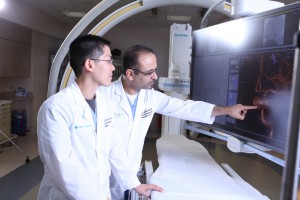 Neuroophthalmology
Endovascular
Demyelinating Disease/Multiple Sclerosis
Epilepsy
Movement Disorder
EMG
EEG/EMU
Headache
Neuropathology
Neuroradiology
Neuro Rehabilitation (PM&R)
Residency Based Didactic Lectures
Our formal didactic series take place on Wednesday afternoons from noon to 1pm. The Neurology Department attending staff realize that our residents will be at didactics during this protected time. Didactics series will consist of core lectures and presentations from Neurology Department Staff, Faculty, Residents, and guest speakers.
Journal Club
Neurology Residency Journal Club will be held every other month. Selected journal articles will be discussed under supervision of a Neurology Faculty Member. During Journal Club, Residents will critique medical literature and learn from recent advances in Neurological medicine.