Research & Scholarly Activity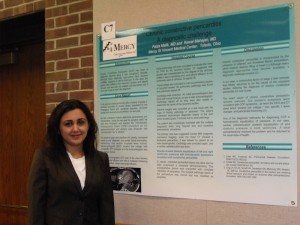 The educational goal for all residents is to participate in scholarly activity projects that will improve their ability to critically analyze literature, evaluate and implement evidence based practice, and to further develop personal skills in the preparation and delivery of professional presentations.
Residents participate in monthly Journal Clubs, Morbidity and Mortality Conferences, summer continuing medical education presentations, and informal presentations during teaching rounds. Residents are also strongly encouraged to work with clinical faculty members in research projects of interest to them. We encourage residents to seek opportunities for publication and take an active role in other resident educational venues. Mercy sponsors an annual research symposium in May that all residents attend, and are strongly encouraged to participate in through active involvement with original and multi-center research projects.
RECENT PUBLICATIONS 2013-2016
Stausmire JM, Cashen CP, Myerholtz L, Buderer N.Measuring general surgery residents' communication skills from the patient's perspective using the Communication Assessment Tool (CAT).J Surg Educ. 2015 Jan-Feb;72(1):108-16. doi: 10.1016/j.jsurg.2014.06.021. Epub 2014 Aug 16. PMID: 25139607
Ruddy NB, Borresen D, Myerholtz L. Win/win: creating collaborative training opportunities for behavioral health providers within family medicine residency programs. Int J Psychiatry Med. 2013;45(4):367-76. PMID: 24261270
PRESENTATIONS  2014-2016
Farooq S, Ashtiani S, Devabhaktuni S, Kim S, Mengal Z:  A Comprehensive Look at 2016 Readmissions of Mercy Family Practice Patients.  Presented at the 2017 Mercy Health – Regional Research Symposium, Toledo, OH  May 9, 2017.
Flora MK, Farooq S: Breast Cancer Screening Rate in a Residency Program Outpatient Office. Presented at the 2016 Mercy Health- Research Symposium, Toledo, OH, May 10, 2016.
Sadek B, Hashmi A, Bhatt P, Flora M, Hafeez N, Ahmad S. Case Report – Liver hernia through anterior abdominal wall, a rare pathology.  15th Annual Mercy Research Symposium, Toledo OH, May 12, 2015.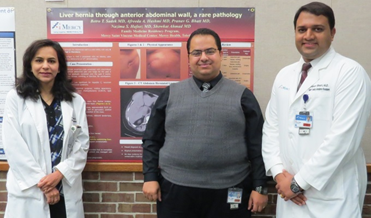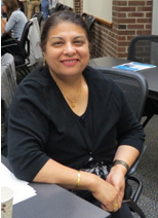 Farooq S. Developing an Effective Ambulatory Care Process to Improve Rates of Colorectal Cancer Screening. 48th Annual Spring Conference Society of Teachers of Family Medicine (STFM).    Orlando, FL April 27, 2015
Zimmerman J. Adding a Single Home Visit to an Urban AHEC Rotation: Can One Small Change Bring Great Rewards?  2015 Conference on Medical Student Education, Society of Teachers of Family Medicine, Nashville TN, February 6, 2015.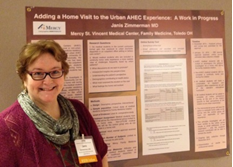 Ross V, Myerholtz L, Seymour D, Talen M, Lyon C. The Milestones: Ways to Meaningfully Assess Achievement While Also Enhancing Teaching. 47th Annual Society of Teachers of Family Medicine Spring Conference, San Antonio TX,  May 5, 2014.
Myerholtz L, Zimmerman J, Penumetsa R.  A Weighty Issue: Exploring Cultural Differences In Obesity Bias Among Family Medicine Residents.
47th Annual Society of Teachers of Family Medicine Spring Conference, San Antonio TX, May 6, 2014.
14th Annual Mercy Research Symposium, Toledo OH May 14, 2014
Myerholtz L, Chaudhary Z, Hafeez N, Tang Y.  Saying hello; It's not as simple as we think… or is it?  14th Annual Mercy Research Symposium, Toledo OH May 14, 2014