Program Events
EMS Day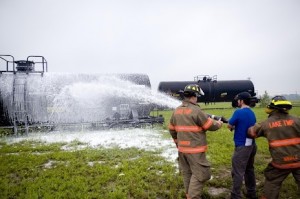 EMS Day has become a yearly training tradition for the Emergency Medicine Residents at Mercy Health – St. Vincent Medical Center.  This training day was originally started at Perrysburg Township Fire Department, and has since been put on by the Owens Community College through the partnership of multiple Fire and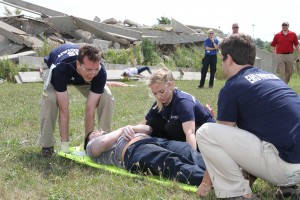 EMS agencies.  EMS Day was conceived by Dr. David Miramontes and Firefighter / Paramedic William Montrie as a means to help immerse the EM residents and other learners into the Fire and EMS operations using a controlled setting.  The Emergency Medicine Residents learn about basic vehicle extrication, fire and fire suppression along with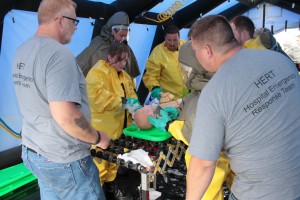 practical experience with extricating patients and fire ground operations using hose lines and aerial operations.  The residents also gain practical knowledge with EMS procedures such as c-spine and back boarding procedures as well as other ambulance operations including the use of the stretcher and stair chair.  Life Flight and the Toledo SWAT team give demonstrations on the principles of air medical transportation along with tactical EMS operations.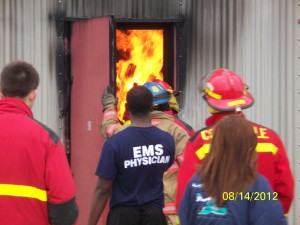 Over the years, the Fire and EMS agencies that have helped make this training a possibility for the Emergency Medicine Residents have included:  Lake Township Fire Department, Life Flight/Mobile Life, LifeStar, Northwood Fire Department,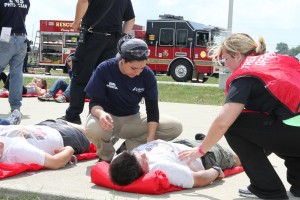 Oregon Fire Department, Owens Community College, Perrysburg Township Fire, Rossford Fire Department, Toledo Fire and Rescue, Toledo Police Swat, Washington Township Fire Department.
Midwest MedWAR
This event is hosted by our Assistant Program Director for the EM Residency program, Dr. David Ledrick.  Our Mercy EM faculty were pioneers in creating the MedWAR event at the national level as well.  It is one of the top races in the country and attracts more than 100 participants from all over.  Please visit Med War link to find out more information.

 Other Events
Camp Miakonda with Dr. Ledrick – another great opportunity for our residents to learn about wilderness medicine
Ohio ACEP conference
Trauma Symposium
Oral Board Review Day – an opportunity to practice in a realistic setting while reviewing the competencies needed to pass the oral boards.
Team Building Events – held during the months where there are 5 Tuesday, activities include:  Ultimate Frisbee, broom ball hockey, paintball, and volleyball are some of the favorites.