Emergency Medicine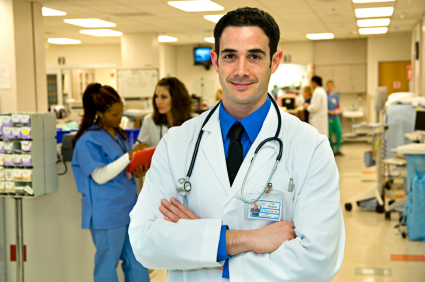 Welcome to the Mercy Health – St. Vincent Medical Center Emergency Medicine Residency Program!  This is a 3 year residency fully accredited by the ACGME and the RRC.  We are currently approved to accept 14 new residents per year.  Our mission is to provide a top-notch experience designed to prepare our graduates for the practice of Emergency Medicine at the highest level, from both a clinical and academic perspective.  Our faculty and residents are committed to the dual goals of delivering state-of-the-art emergency medical care while providing high-quality instruction and supervision in the science and the art of Emergency Medicine. The Program Director, Dr. Randall King, has been the Director of the EM Residency program for almost 20 years. He is passionately dedicated to continuous success of the program.
Program Highlights

Our educational program provides focused, in-depth didactic preparation combined with extensive clinical experiences in a high-volume, high-acuity setting, with continuous faculty supervision in a collegial and supportive environment.
Our affiliations with local and regional EMS organizations allow our residents outstanding opportunities to gain experience in supervisory roles as resident medical directors and  primary educators of paramedics and EMTs.
The Emergency Department at Mercy Health – St. Vincent Medical Center is a Level 1 Trauma Center with Pediatric Commitment, one of only two Level 1 facilities in the region.  You will also gain community hospital experience by rotating through Mercy Health – St. Charles Hospital in your second and third year.
During the second and third year of residency, our residents serve as the primary flight physicians for the Life-Flight/Mobile Life Critical Care Transportation Network.  The residents are responsible for the stabilization and treatment of patients during all first-call Life Flight responses.
Program History
Program started in 1974.
We have graduated close to 400 residents who work in 26 states and around the world.
During electives, we have had residents provide medical services in Africa, Haiti, Australia, Nepal, Japan, Mexico, Canada, England and Taiwan.
The LifeFlight Program began in 1979, when Dr. Frank Foss had a vision of bringing the care and physician to the patient.  LifeFlight has grown exponentially since then, to include 5 helicopters and four bases.